Kitengela Bridge & Glass Tour
East Kajiado County KE
As described by intosafaris ,
''The Nani`s Kitengela Hot Glass and Anselm Kitengela Hot Glass, (I will be giving the difference of the two shortly) has been in my bucket list for some time and it couldn`t be a better Safari near but not so near Nairobi.
About 29Kilometers from Nairobi CBD. At the edge of Nairobi National Park, near Ongata Rongai.
Adventurous is an understatement if I was to describe the Kitengela Hot Glass tour, this place is coddiwomple. Not a single boring minute, your jaws keep dropping in every turn you make. This is a Kenyan Hidden Gem, Before entering the Gem. Better get ready for a grand entrance for the myriad of Glass Art, scrap design Metals, sculptures and variety of wild animals along the way, remember it is in the edge of Nairobi National Park.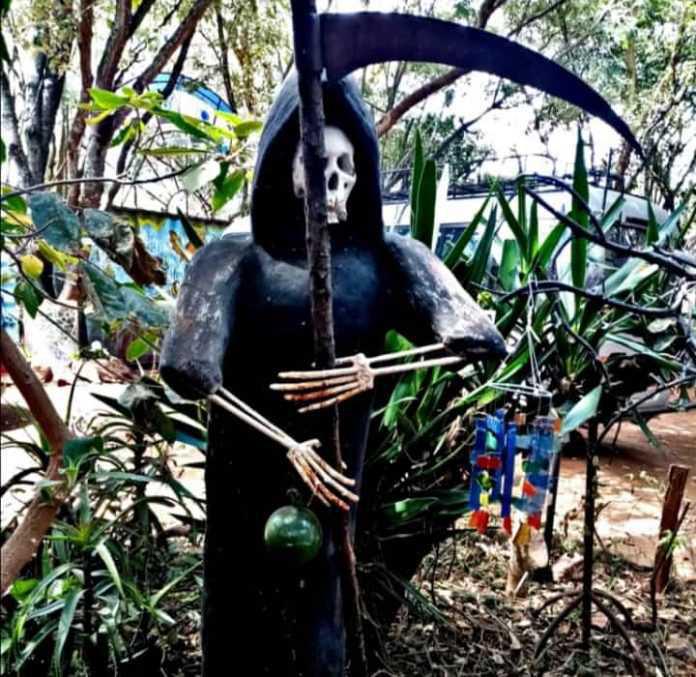 When you arrive, Incredible mosaic pathways are leading you to an assortment of treasure trove. Nani and family arrived here in the '70s. they had challenges of attack by the wild animals, at some point, James told us a stray leopard killed twenty Sheep and left only one which went insane after witnessing that bloodthirst vampire. There are over 70 workers who live within making it a small community.
After the brief, we started to shove towards the magical kind of a display. Call it workshop.
Glass Studio
Kitengela Glass started with Stained glass which Nani who was a muralist, she studied in London and started her work here in Kenya in 1979. She used to Import coloured Glass but it was becoming expensive, only then when she and her Son Anselm who now runs Anselm Hot Glass Kitengela. Decided to start recycling Brocken and used glasses, business was good as they were the first to start Glass blowing in Kenya. James added the glass is divided into six categories stated below.
After we were taken around the workshop and shown what I just explained above it was time to shake that adrenaline. They say, "It is the greatest shot of adrenaline to be doing what you have wanted to do so badly". Yes, I wanted to do this so bad, though to some of my friends. This was more like a nightmare, the screaming and trembling as they crossed the bridge in a zombie-like walk left some of us in Stitches.
Before you reach the bridge there is a long steep stretch which doesn`t help either if you have fear of heights, I think it prepares you for the surprise that awaits you. From the look of things, one could underrate the bridge but the minute you are in the middle that is when reality hits home. Since I do not have fear of heights it was a smooth ride for me what tingled and flattered me is my friends, the fear and the look in their faces especially the ladies. You would think they have just seen the scariest thing in-universe. For a long time, I felt like am kind of Samson of the Bible, strong and unmoved by little things like crossing that precarious bridge.
How Much do they charge the bridge crossing?
The price to walk this incredible bridge is surprisingly very affordable, just kes150/ USD1.5
The swing bridge walk is kind of undercharged if you ask me, the pleasure, the adrenaline, the fun and the feeling when walking across is more. Payless get more kind of an arrangement. The Bridge connects you to Maasai Lodge and Silole Sanctuary which is a 400acres of private land adjoining Nairobi National Park.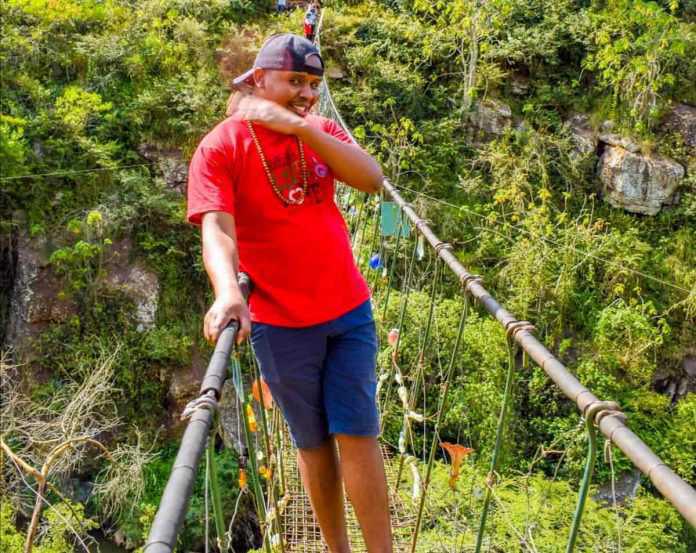 Swimming At Kitengela Glass
Their swimming pool is designed in a way that it brings the coast mood instantly the moment you step on, with its mosaic decorated pathways, the swimming pool is designed in a photogenic way that pulls photographers to make more clicks than anticipated. It is surrounded by bush making it look like a countryside swimming clean river, this swimming pool pulls your mind whichever way you look at it.
How much do they charge for the swimming pool?
The swimming pool is charged at Kes500/usd5
Carmel and Horse Riding.
Though we did not have time to do this activity, James told us it is usually an incredibly unique experience, at first it was challenging to keep the horses and camels because of the wildlife but lately it is stress-free as rarely will you come across stray animals from the Nairobi National Park. I do not know if am right to call it land encroachment as people have settled the place almost populated now unlike when they first settled in the '70s.
How Much do they charge for Carmel and Horse riding at Kitengela Hot Glass? They charge Kes500/Usd5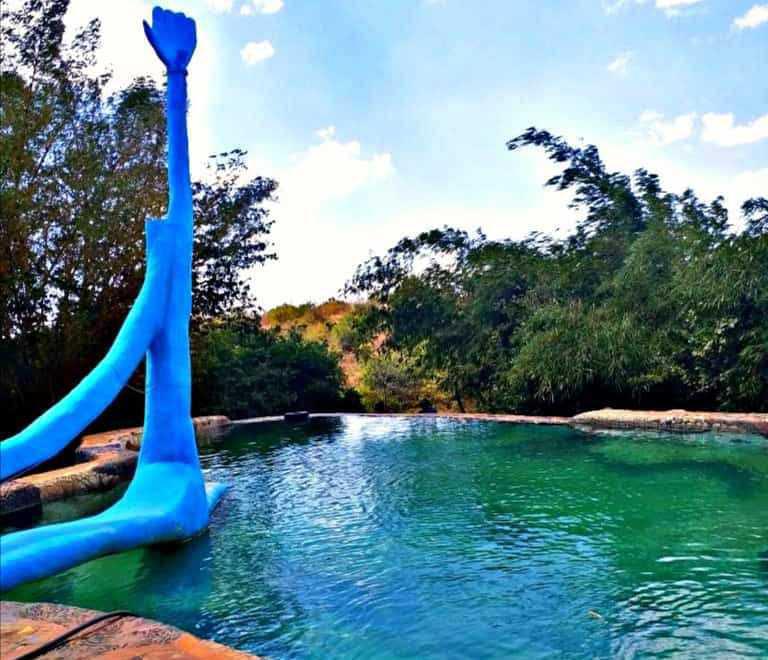 Departure
Kitengela Hot Glass opening hours are;
Monday to Saturday 8:00 AM – 5:00 PM
Sunday 10:00AM – 4:00 PM.
So, the perfect time to depart Nairobi CBD is 9:00 AM latest 9:30 AM.
It is 1-hour drive depending on traffic and don't forget the branching road to Kitengela hot Glass is about 6Kilometers is quite bumpy and dusty, be ready for what we call African massage.
Arrival
You will arrive at Kitengela Hot Glass at 10:00 Am – 10:30 Am.
Relief to the washrooms as those gallbladders will be properly shaken
Workshop Tour
11:AM – 12:30/ 1:00AM
You will be taken through the glass workshop everything is explained and if you want to buy some sculptures you will be able to ask prices along the way. It is an interesting tour; the way time will elapse you won't even know it. After the workshop, you will be taken to studios where the manufacturing is done, you will be shown how they do it and even an extension for you to do some blowing of the glass will be offered.
1:00PM – 2:00PM
You can go to the mosaic designed swimming pool where you can take pictures and do the swimming as you rest waiting to do the precarious bridge walking.
2:00PM – 3:00PM
Precarious Bridge Walking.
The epitome of the event, you will zombie walk the scary bridge, if you are brave enough and have no fear of height which is rather known as Acrophobia. You will incredibly enjoy this moment.
3:00 PM – 3:30 PM
Return to the workshop, Rest for a while as others continue taking pictures. Then depart for late lunch at your desired `Nyama Choma` place, maybe Ole polos, Osoita or any other place, as for us we went to Jungle Grill, a very nice affordable place, a Kilo of Mbuzi (Goat Meat) going for Kes700/ $7 fair enough. You can choose to soak down with a cold beer and if you are non-alcoholic do some cold Juice as you listen to country music.
Leave at your Pleasure.
Difference between Nani`s Kitengela Glass Art and Anselm Kitengela Hot Glass.
Anselm is the son of Nani who started his successful workshop, which is next to Nani`s.
At Nani`s Kitengela Glass Art, apart from the studio and the work Studio, there are activities like the ones mentioned above, that is Carmel and Horse Riding, The precarious bridge, swimming, among others. To top up the activities there are beautiful Rustic accommodation Cottages. At Anselm Kitengela hot Glass we only have the Studio and the Work Studio.
Tip: It is recommended to do both
Accommodation at the Nani`s Kitengela Art.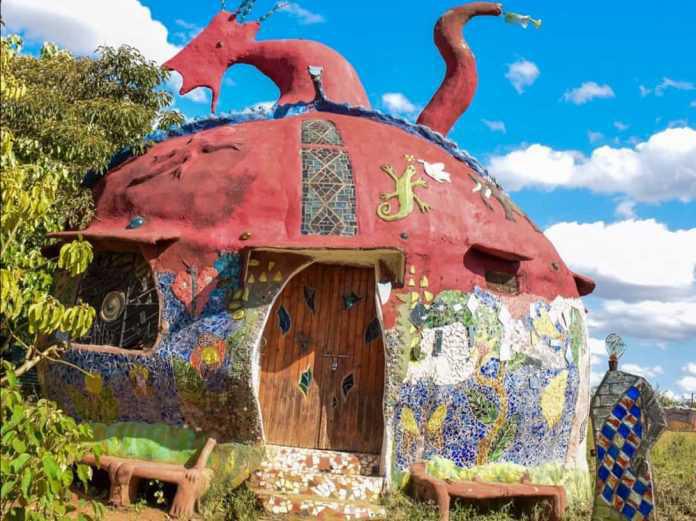 I did not get the chance to have a night over but I viewed the cottages they are rustic, mosaic designed floor and windows. James told us they were featured on "World's Most Unusual Homes" TV Show. What I found fascinating. Just like the palm of your hand, no two cottages are alike – meals are optional but fascination and wonder are not.
Budget: A room will range from Kes4,000/USD40 to 12,000/120 Per Night depending on size and design.