Isaac's Experience: Stay in this Rustic Country house from 3129 Per Person!
Athi River Wilaya ya Machakos KE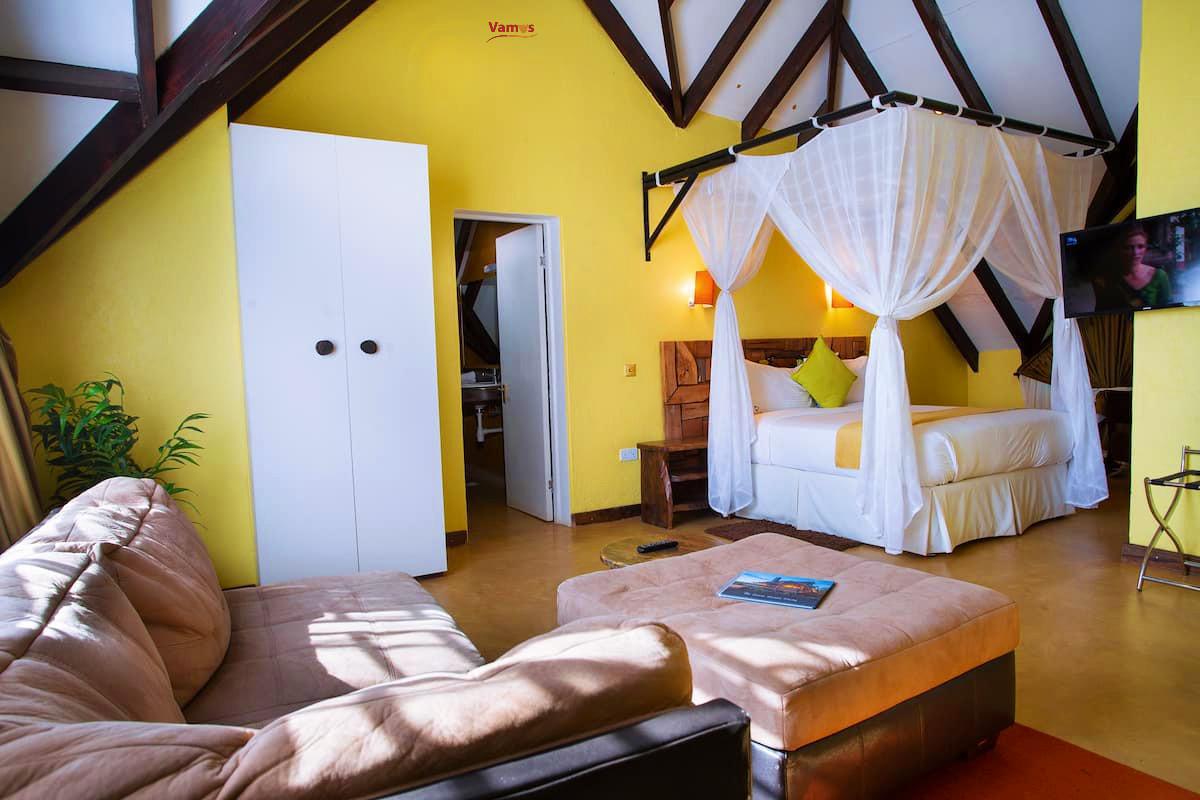 A beautiful rustic country guesthouse at the foot of the majestic Lukenya Hills, just 30 minutes from Nairobi's main (JKIA) airport. The premise consists of a 7 bedroom main house which comfortably sleeps 14 people on its 9 queen-sized beds.

There are 4 adjacent ensuite guest wing rooms next to the 7 bedrooms main house, fitting up to 8 extra adults. The entire premise has 11 bedrooms fitting up to 26 adults on 13 double beds.
You'll enjoy sitting on the porch swing on our large terrace in the mornings and evenings listening to the sound of local birds and enjoying the scenic views of the iconic Lukenya Hills. This rustic country home will feel like a home away from home and the host is looking forward to sharing it with you and exceeding your expectations!
Top House Features:
7 bedroom main house, 9 Double beds, 7 Bathrooms
4 Garden Rooms, 4 Bathrooms, 4 Double beds
A total of 11 bedrooms, 13 double beds ,and 11 Bathrooms
An in house chef
A spacious garden with multiple sitting areas
BBQ Grill, wine glasses, and outdoor furniture
Self-catering, Well equipped kitchen
Suitable for events
Free Wi-Fi and cable TV
Large and secured parking space
Indoor fireplace
Rates Breakdown: Per person per night: 11 Bedroom whole compound
22 people = 3129 per person
21 people = 3279 per person
20 people = 3449 per person
19 people = 3629 per person
Rates Breakdown: Per person per night: 7 Bedroom whole Main House
18 people = 3159 per person
17 people = 3349 per person
16 people = 3309 per person
15 people = 3529 per person
14 people = 3499 per person
13 people = 3759 per person
12 people = 4079 per person
11 people = 4449 per person
10 people = 4899 per person
9 people = 5439 per person
8 people = 6119 per person
7 people = 6959 per person
Rates Breakdown: Per person per night: Garden Ensuite Rooms
8 people = 3499 per person
7 people = 3959 per person
6 people = 3339 per person
5 people = 3899 per person
4 people = 3339 per person
3 people = 3899 per person
2 people = 3399 per person